Horseback Riding in Telluride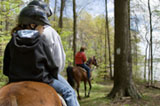 The vast rolling mountainsides of southwestern Colorado are filled with majestic views and pristine landscape that cater to those with an adventurous spirit. Much of this untouched land is accessible only on horseback, meaning you'll find the most dramatic and inspiring vistas from atop a true Wild West bronco.
Knowledgeable and experienced guides can help get riders of any age or ability rollicking through wide open prairie land and rugged mountain passes in no time. Enjoy a casual two hour jaunt around the hills of Telluride, or take a daring multi-day expedition into the wild reaches of Colorado.
No matter what sort of adventure you're hoping for, Telluride can provide the ideal backdrop for your horse riding excursion.